inConcert was present again at the Global CX Forum Fest organized by IMT on May 2 and 3. The event brought together the most outstanding professionals and companies in the sector in Mexico and the region as a whole. The event's logline was "It's time to reconnect," and after two years of the pandemic, this 26th edition felt like a reunion.
We had the opportunity to join as a Platinum Sponsor, sharing the latest technological developments in our portfolio. Our team of advisors in Mexico received hundreds of people at our stand to introduce them to the advanced features of inConcert Contact Center platform, mainly focusing on chatbot and artificial intelligence applications aimed at taking the customer experience to a new level. In line with the event's spirit, we raffled an Alexa Smart Speaker among the attendees.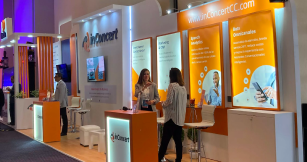 Towards a Total Experience
Not everything was about Artificial Intelligence, as human reconnection was one of the main topics of the Global CX Forum conference program. This is what Mariano Burgos, inConcert's Business Development Manager for Mexico, Central America, and the Caribbean, spoke about during his Total Experience (TX) talk.
Mariano shared the keys to accelerating business growth, adopting a TX that can go beyond the customer experience. The two days of the Global CX Forum were a clear example of how to create an enriching Total Experience, connecting the face-to-face with the digital.