Calculate accurate forecasts and plan staffing requirements for any time interval
thanks to advanced algorithms and a powerful simulator.
Automatic forecasts
Save time in generating forecasts of interactions, operational times and HC required on a weekly basis for the period of time you need, supported by automatic tasks.
Forecast an entire year in minutes, and focus your time on analyzing the trends of the different services and the best strategies to face changes.
f(x) Edition:
Take advantage of our innovative editing system to modify projected interactions, TMO, required HC and reducers; adding, multiplying or adding a constant value for a whole day, or a selection of shared intervals between days or isolated dates; and get the desired result in your projections.
Automatic distributions intraday
inConcert WFM helps you to know the arrival pattern of interactions and the TMO by service and channel type for each day of the week; helping you to improve the sizing and concentration of agent hours in the different intervals of the day.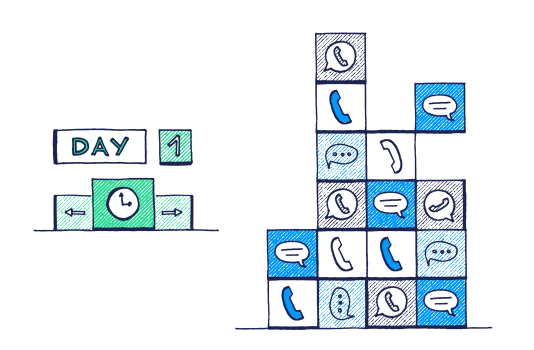 Do you have doubts, questions or want a demo?
Find out how to get more leads, better
quality and at a lower cost.
More info
Special days
Customize the atypical and special days that impact your operation, and know the percentage of variation compared to a normal day for each service.
Improve the sizing of special days by adding the percentage impact to forecasts, and take your scheduling strategy to another level by sizing the right staff.
HC required
Choose from the three required headcount calculation strategies the one that best suits your channel and type of operation.
Simulation: Perfect for inbound interaction scenarios where your agents are trained to handle more than one service.
Erlang: The classic and reliable strategy for generating required staff.
Service capacity: Useful for sizing channels that allow concurrency