180%
Improvement in
customer contact rate
Let's hear from the protagonists
Let's hear from
the protagonists
"Thanks to inConcert we have consolidated a contact center, fully aligned with institutional strategies, and the support of the professional team and technological tools have made the operation easy and 100% manageable."
Florencio Cueto Barojas
Information Technology Coordinator, UTEL
Features
Progressive dialing
IVR
Web Chat
Web app designer
CRM integration
Screen pop ups
Satisfaction surveys
Supervision
Customized reports
Solutions
The challenge
Within the framework of the global redesign of its processes, UTEL's objective was to restructure their contact center in line with industry best-practices.
They were looking for a solution that delivered all the functionalities of a modern high-tech contact center, but that did not require a very high initial capital investment.
Due to a redesign of operational processes, they required the support of a professional team to assist them throughout the implementation.
A solution that would allow them to
scale in line with business growth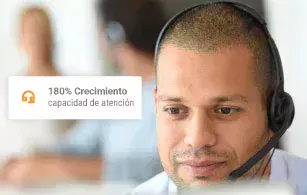 Solution
Sales
With a focus on consolidating the business, inConcert worked with UTEL to formalize the sales campaign first. Manual dialing was implemented as a pilot test.
Once the processes were defined, the sales campaign was automated with progressive dialing.
Call transcripts were created using the web application development tool.
Service
When the sales contact center was operational, a pre-service IVR was implemented. Several customer service campaigns were also launched, including webchat as a new contact channel, and integrated omnichannel into the contact center.
In addition, satisfaction surveys were carried out to assess the quality of care for users.
Lead-Gen
Finally, automated lead-gen campaigns with progressive dialing were implemented.
Customer service and sales campaigns were integrated
with the CRM used by UTEL
Integration
Both customer service and sales campaigns were integrated with the CRM used by UTEL.
This allowed setting screen pop-ups in the CRM, which present the agent with relevant customer information. The pop-up is displayed when the auto-dialer makes the call (outbound campaigns), or when the agent receives an interaction (inbound campaigns).
Reporting
Management reports were designed according to the requirements of the process. There was an emphasis on real-time supervision and monitoring to detect opportunities for improvement in each of the interactions.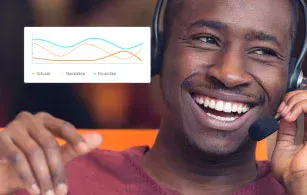 The results
Thanks to the technology and guidance of inConcert, UTEL established their own omnichannel contact center, integrating all the required business processes.
In 18 months, UTEL's contact center grew by 55 positions. It currently operates with 260 workstations, exceeding its original growth target by 180%.
In terms of customer satisfaction, UTEL is currently positioned at 8 on a scale of 1 to 10, according to quality surveys. Although there is room for improvement, the NPS was increased by 2 points.
180%
growth in operations
Next steps
The contact center is operating and achieving very good results for the company. The next phase of the project will focus on optimizing processes and maximizing technological tools to achieve greater efficiency and an excellent Customer Experience.
During the first year, sales increased by 50%.
UTEL
Industry
Education
Positions
344
Operations
Mexico
(+12 countries in the Americas)
The Universidad Tecnológica Latinoamericana (UTEL) online is an educational institution that provides online study programs at preparatory, bachelor's, master's, and doctoral levels, as well as diplomas, courses, business simulators and certificates.
UTEL develop and take advantage of resources and generational technological advancements of integrated solutions that optimize the teaching-learning process in an efficient and productive way and have the experience of researchers and professionals focused on the educational market and with the objective of helping the improvement of education in Mexico and Latin America.